M.Phil in Chinese Studies
Online applications for September 2018 will open in early November.
Please contact the course director Prof. Tien with any application queries.
This interdisciplinary two-year taught Master's degree in Chinese Studies offers a unique opportunity for you to engage deeply and critically with China today, and to provide a solid and rigorous foundation for your career aspirations.
Our M.Phil. offers you:
Elite, tailor-made programme
Flexible design shaped by your interests and Chinese language ability
Small class size, taught by world-class scholars
Regular guest experts invited to speak from business, trade and industry
Wide choice of Study Abroad destinations across the Chinese-speaking world for one semester
Competitively-priced tuition including Study Abroad flights and study fees
The chance to study at a premier university in the heart of vibrant Dublin
Two-year visa extension for non-EU M.Phil. in Chinese Studies graduates to seek employment in Ireland
Exceptional alumni and employer networks

Our Master's degree in Chinese Studies seeks to develop students' in-depth knowledge and understanding of China in the twentieth and twenty-first centuries within a comparative, global context. We approach the study of China from a range of disciplinary perspectives, including modern Chinese history and thought, politics and governance, language, society and culture.

It is principally aimed at students with a primary degree in humanities or social science subjects. It produces employable graduates equipped with the analytical and methodological skills for future careers requiring a strong knowledge of contemporary China, and provides a unique opportunity to undertake subject-specific study and research training in the context of contemporary China. Opportunities for further doctoral research are available in a variety of subject areas.
Please note that no previous knowledge of Mandarin is required in Strand 1 of the Master's programme. Mandarin speakers may apply to Strand 2 of the Master's programme.


"Doing the M.Phil in Chinese Studies has been one of the best experiences of my life. I was fascinated by the idea of doing Master's on such a contemporary area in a university with such history and reputation. Our department pulses with the energy of doing something ambitious, unique and new. The teaching body is made up of staff with incredible experience, some working on the newest issues in China. There is an atmosphere of expertise, care and growth. We students feel very involved in shaping the course itself, making a unique environment. The small size of the classes made us so close to each other, like a family! A learning family! The semester abroad is the opportunity to experience China and acquire the type of insights that only living there gives. I am sure this M.Phil. will become the pulsing heart of Trinity College and a hub of Chinese Studies in Europe."

Barbara Lecis, Recent Graduate, M.Phil. in Chinese Studies
"The M.Phil. in Chinese Studies here at Trinity College represents everything good about postgraduate studies in Europe: a great campus that provides everything a student could wish, an academic team always ready to help you grow, and a world of possibilities in the heart of a pulsing city that is Dublin! The course is structured so that students can really challenge themselves in an incredibly stimulating environment. My academic skills have developed greatly, and I have also made exceptional friends here.  The team is always available for help and clarifications. I chose Trinity because is a research-intensive university, ranked top in Ireland, and I have not been disappointed in any way. The M.Phil. in Chinese Studies offers modules about contemporary China, analyzing different aspects of this great, complex country. There are also so many opportunities for extracurricular activities and volunteer work for anyone interested, which helped me learn new skills and deepen relationships - really important for international students. One of the best experiences I will ever have!"

Chiara Mastronardo, M.Phil. in Chinese Studies, second-year postgraduate.
Flexible Design

You can tailor your Master's programme according to your language ability and interests. Students choose between two key strands in this taught Master's degree. Each strand offers a range of core and elective modules which provide different disciplinary perspectives on contemporary China. Strand 1 offers you intensive Mandarin tuition in addition to the core modules on contemporary China, and aims to you to an intermediate proficiency level in spoken and written Mandarin. Strand 2 provides for students who have prior Chinese language learning experience, through their undergraduate programme, other study or work experience, and is also suitable if you are a native speaker of Mandarin. If you enrol in Strand 2, you may choose to polish your Chinese language proficiency through intermediate to advanced Mandarin modules.

Study in China

The first two semesters of the degree are delivered in Dublin. In the third semester of the degree, you will gain first-hand experience and understanding of Chinese life and society through our Study Abroad programme in one of Trinity's partner universities in China, Hong Kong or Taiwan.You then return to Trinity College to complete the fourth and final semester, and submit a Master's dissertation by the end of August.
After graduation
Graduates from Trinity are among the most employable in the world, according to the 2015 Global Employability University Rankings. The university offers a bespoke careers service for all international students and students enrolled in our taught postgraduate courses, including opportunities and pathways for graduates in Chinese Studies. All international students registered at Trinity may apply for an extension to their student visa for two years, starting on the day upon which they receive their final results. This allows you to remain in Ireland and to seek full-time employment in Ireland for two years after your Master's degree - an outstanding opportunity for you to kickstart your career here.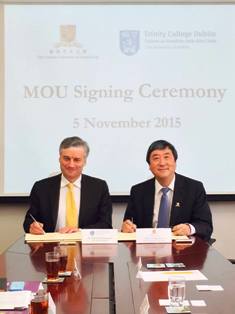 Course handbook 2017-2018/19
The course handbook applies to all students doing the M.Phil. in Chinese Studies, and will be a useful guide for interested applicants. It provides a guide to what is expected of you on this course, and the academic and personal support available to you. It describes each of the core and elective modules, the Study Abroad programme, and the other components of the course.
Sam Lam Associate Professorship in Chinese Studies
Our M.Phil. in Chinese Studies has been greatly enabled through a philanthropic donation by Dr Sam Lam (M.B., M.A., 1961), funding the Sam Lam Associate Professorship. Dr. Lam, a Trinity alumnus in Medicine (1963), is President of the Lam Woo Foundation. Dr Lam is a specialist in diagnostic radiology and was the first chief corporate radiologist at the William Osler Health System in Ontario, Canada. As one of the pioneers in filmless radiology, he led his department to become the first radiology facility in Canada to adopt a comprehensive range of digital imaging technology. He was presented the Queen Elizabeth II Diamond Jubilee Medal by the Canadian Government in 2012, for his significant contributions to his fellow citizens, community and to Canada. He returned to Hong Kong in 2008 after living 50 years abroad.
Dr Adrian Tien holds this prestigious position, and joined Trinity as the Sam Lam Associate Professor in Chinese Studies (Linguistics) in 2015.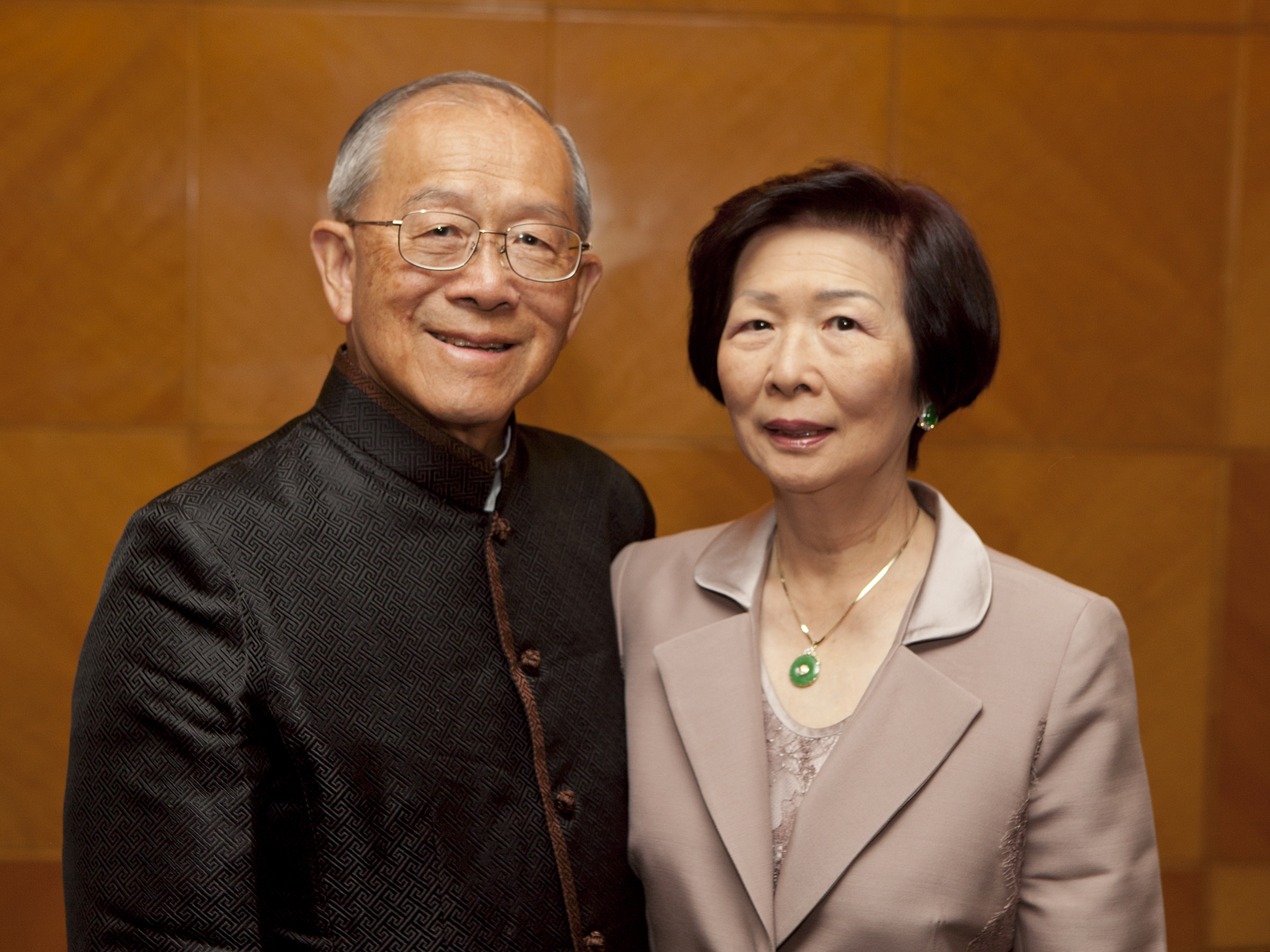 Dr Sam & Ellen Lam
Scholarship opportunities in Chinese Studies:
Eoin and Cliona Murphy Scholarship in Chinese Studies 2018/20. The Eoin and Cliona Murphy Scholarship is awarded annually to candidates accepted for the M.Phil. in Chinese Studies programme. The value of the scholarship is €6,000 paid over the two years of the Master's degree. All applicants who have accepted an offer are eligible to apply for the scholarship. Please email the course director Dr Adrian Tien regarding the application process.
Eoin Murphy is MD of Vardis Hong Kong, a specialist executive search firm and his wife Cliona is Vice President, Technical for PepsiCo Worldwide Flavours (PWF) based in Cork. They met while studying Engineering in Trinity, graduating in the class of 1989 and subsequently emigrating to the UK. They returned to Trinity to celebrate their wedding in 1996 and have continued to have a close affinity with their alma mater. Having had the experience of spending 7 wonderful years in Asia, including 5 years in China during which time the whole family learnt Mandarin, they were delighted to to have the opportunity to be directly involved in sponsoring the Trinity Centre for Asian Studies. They hope that the scholarship will enable a deserving student to both learn and contribute to the development of this much needed, independent Centre for Asian Studies and they look forward to an ongoing relationship with TCAS scholars, students and staff. Pictured below: The Provost, Dr Patrick Prendergast, with Eoin & Cliona Murphy and 2015 Murphy Scholarship recipients Robert Byrne & Heather Gray.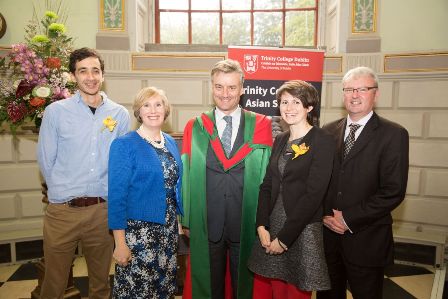 More information

Please contact the Chinese Studies programme director Dr Adrian Tien with your queries about the degree or email our office staff at tcas@tcd.ie.